We're no longer limited to deciphering insights based on pre/post trends, and have meaningfully increased both the quality and quantity of tests we can support.
Fiona Cummings, Senior Data Analyst, DispatchHealth
Statsig as a product is on point. It's easy to use and it provides the features we wanted without workarounds.
Oma Guenena, Lime
Statsig was the only offering that we felt could meet our needs across both feature management and experimentation. The support we've had from their team so far has also been a huge value add.
Sriram Thiagarajan, EVP & CEO, Ancestry
As we searched for a partner to help us with our growth efforts, we needed someone who could provide fast results and insights for us to be able to quickly iterate, which is why we decided to go with Statsig.
Evelina Achilli, Product Growth Manager, Plex
I know that what Statsig's building is on par with and meant to be comparable to a large consumer scale, massive application. That's what we're moving towards so this partnership makes sense.
Jeff Birkeland, SVP, Headspace
The first thing that made us see we need something like Statsig is the need for feature gates to really separate who is going to see a new feature and who is not going to see a feature. That's super useful for us. Experimentation was a plus.
Elaine Tiburske, Data Scientist, Rei do Pitaco
If I go to Statsig, I see a bunch of experiments and a bunch of tags being created. So you can really see that people are starting to use it for everything that they're doing. Any new feature that they are launching, any new experiment that they are launching, they're using Statsig.
Partha Sarathi, Director of Engineering, Ancestry
We plan to use Statsig for any new major feature releases. The beauty is that the tool allows us to both run experiments, but also track the impact of feature releases.
Evelina Achilli, Product Growth Manager, Plex
Statsig takes away all the pre-work of doing experiments. It's really easy to setup, also it does all the analysis. I and most data scientists know the pain of doing this work manually. Statsig takes away all the hard work of doing experimentation, and also does the nice part of seeing what's increasing or decreasing.
Elaine Tiburske, Data Scientist, Rei do Pitaco
I know that for our key business metrics, we are able to impact them in a positive way with Statsig. Directionally, I can say that we're heading in the right direction with Statsig.
Partha Sarathi, Director of Engineering, Ancestry
At Notion, we're continuously learning what our users value and want every team to run experiments to learn more. It's also critical to maintain speed as a habit. Statsig's experimentation platform enables both this speed and learning for us.
Mengying Li, Data Science Manager, Notion
Adoption was very easy. Multiple teams create experiments meaning we're reaching decisions easier and faster with Statsig.
Oma Guenena, Lime
Brex's mission is to help businesses move fast. Statsig is now helping our engineers move fast. It has been a game changer to automate the manual lift typical to running experiments and has helped product teams ship the right features to their users quickly.
Karandeep Anand, CPO, Brex
Out of the experimentation platforms that I was looking at, Statsig is by far the most modern. The features that have been rolled out, the speed that new features are being rolled out, and the level of customization - it's the closest thing to a long term in-house built experimentation platform. Comparing this to the other platforms makes them seem just honestly like... dinosaurs.
Mark Macapagal, DS Manager, Teladoc
...There's no way to ship things fast, safely without feature flags. ... The ability to conduct experiments, of course, is where feature flags shine the most. Statsig is a relatively new player in the space, but the team's responsiveness to feature requests and questions is what won us over.
Bilal Quadri, CTO & Co-founder, Zoya
Unless you have >5 engs + 1 TL with experimentation expertise + 1 year to roll your own experimentation, you're more likely better off using Statsig
Anh Le, Senior Data Scientist at Netflix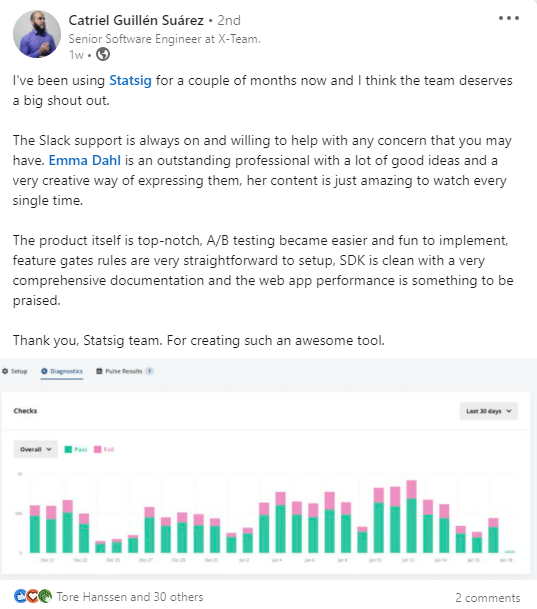 The Understood team chose Statsig for its fast integration and quick setup, which allows us to run more experiments and gives us confidence in data informed decision making.
Raymond Lou, Group Product Manager at Understood
We chose to partner with Statsig because we believed in what their team was building. The Statsig team has been there every step of the way, from implementation to understanding results. They are building something special and we are excited to be apart of the journey!
Josh Houghton, Director of Acquisition and Conversion at Made Renovation
We're innovating at a rapid pace at Tempo, and we need an experimentation platform that is both robust and moves at our speed. Statsig's nimble and responsive team, combined with their simple-yet-powerful platform, make them a natural fit for us.
Michael Koch, Engineering Manager at Tempo
What our customers say about us
"Statsig gives Tavour best in class feature flag management combined with unparalleled A/B testing."
Tavour
Philip Vaughn
Founder
"We finally found a product that moves just as fast as we do and have been super impressed with how closely our teams collaborate."
Whatnot
Rami Khalaf
Product Engineering Manager
"Statsig has enabled us to quickly understand the impact of the features we ship."
Headspace
Shannon Priem
Lead PM